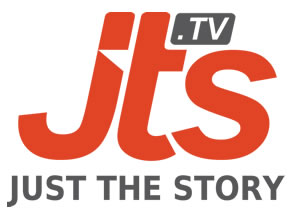 Quick Look: JTS.TV offers ad-free independently-produced television series. Over a dozen series are currently available. The following are a few examples to give you an idea of the types of shows offered (descriptions from JTS.TV):
Reel Dudes - "Clark catches the movie-making bug. He enlists his two best friends, Terrance and Jackson, to enroll in a local film contest, hoping to win the $5000 Grand Prize."
Breaking Point - "A series following a group of friends as they deal with their dreams, triumphs, and heartaches. As day-to-day transitions and setbacks threaten their relationships and livelihoods, their world tilts off course and out of their control, forcing some to commit a few wrongs in pursuit of their happiness."
Continuum - "A beautiful young woman awakens aboard an adrift space ship with no memory of who she is or how she got there and at the mercy of the ship's mysterious computer."
Asylum - "Follows a team of doctors as they diagnose and treat patients at a hospital for the criminally insane, and as we learn more about each of the doctors and the asylum itself, we will begin to unravel a mystery that uncovers forces at work more extraordinary than anyone could imagine."
This channel offers a free preview, which is a trailer or full episode, of each series, or you can watch previews online at this link.
-- Information is current as of August 3, 2012
Developer's Channel Description: JTS.TV is a premium independent television network featuring top shows and films from independent producers. This channel features free preview episodes of our entire slate of shows and full access to all of our shows for our subscribers!
CHANNEL STORE CATEGORY: Movies & TV
DEVELOPER: JTS.TV
FEES: 3-day free trial, then $3.99 per month or $39.99 per year
RELATED LINKS:
JTS.TV Website
JTS.TV on Facebook
JTS.TV (@JTSTV) on Twitter