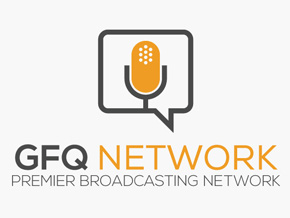 Quick Look: Guys From Queens (GFQ) Network is a producer of talk-radio style podcasts covering "everything from news, pop-culture, technology, opinion, and entertainment on a daily basis."1 The Guys From Queens Roku channel features a live feed of GFQ shows along with recent episodes of nine podcasts (descriptions courtesy of GFQ Network):
Behind The Counter - "A weekly show... about the world of comic books and all things related."
Mat Men Pro Wrestling - "The brainchild of Andrew Zarian and Rich Stambolian, both of whom are huge Pro Wrestling fans going way back... If you like your Pro Wrestling talked about with cool heads and a dose of humor then you will probably enjoy Mat Men."
T4 Show - "Cover[ing] the world of technology, in a fun, casual, and easy to understand manner...Whether you're a gamer, business user, apple fan boy, apple hater, whatever… We've got you covered."
The Chaunce Hayden Show - "Chaunce Hayden, the editor of a popular New York and New Jersey entertainment magazine... talks about life in the entertainment biz and his personal life. A guest is also featured and interviewed every week."
Tech News Weekly - "Your home for technology and entertainment news. Hosted by Andrew Zarian and featuring a round table of rotating guests hosts for different insights."
Spencer Kobren's The Bald Truth - "An on air support group [that] has been nationally syndicated for over twelve years and has developed cult-like status among men ages 18 to 35 and beyond seeking advice on 'Sex, Life and Hair Loss.'"
The Free For All - "Three men square off – tethered only by the invisible chains of the Internet. Andrew "The Shah" Zarian, Coco "Sweet Ape" Butter, and Spencer "Too Cold" Kobren crack the conversational spines on anything from the things they watch on screens, the stuff they listen to, and even the juicy secrets whispered in the hallowed hallways of GFQ Headquarters."
This Week In Radio Tech - "Episodes feature sage audio advice, 'There I was…' stories, and instruction from some of the sharpest minds in audio media technology today. TWiRT is smart, informative, and lots of fun for audio, RF, and packet-loving geeks."
What The Tech - "From the very controversial, to the unboxings to software reviews, "What the Tech?!" allows tech-junkies and novices alike stay updated on the latest technology news."
-- Information is current as of May 31, 2013
Developer's Channel Description: Guys from Queens Network Inc is one of the leading producers of talk-radio style Internet programming.
CHANNEL STORE CATEGORY: Sci & Tech
DEVELOPER: Craig Digital Designs
FEES: None
RELATED LINKS:
Guys From Queens Website
Guys From Queens Network on Facebook
GFQ Network (@GFQNetwork) on Twitter
GFQ Network on Google+