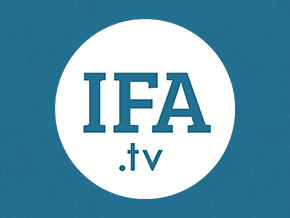 Quick Look: This channel comes from Index Fund Advisors, Inc., a fee-only independent financial adviser that "provides wealth management by utilizing risk-appropriate, returns-optimized, globally diversified and tax-managed portfolios of index funds." The founder of IFA has published a book on investing
, and these videos are purported to support the information in that book.
The IFA.TV channel currently offers videos from 39 IFA shows with titles like Asset Class Allocation, Importance of Fiduciaries, Estate Planning, and Hedge Funds. Each show is broken down into several videos. The ones I previewed seemed to feature fairly in-depth technical details on investing. This isn't Jim Cramer and Mad Money, but that's not necessarily bad. The videos are professionally produced and the on-air personalities do a good job of presenting the material. They aren't overly polished and I felt like these are real investment advisers, not infomercial salesmen. I was expecting infomercials, but that's not what this channel is about. I haven't read the book, though, so I can't comment on whether this channel is a good complement to it or not.
-- Information is current as of July 14, 2012
Developer's Channel Description: IFA.tv provides webcasts explaining the investing strategies of IFA.com and Mark Hebner's book, Index Funds: The 12-Step Recovery Program for Active Investors
.
CHANNEL STORE CATEGORY: Special Interest
DEVELOPER: Index Fund Advisors, Inc - IFA.com
FEES: None
RELATED LINKS:
IFA TV Website
Index Fund Advisors on Facebook
Index Fund Advisors (IFAdotcom) on Twitter