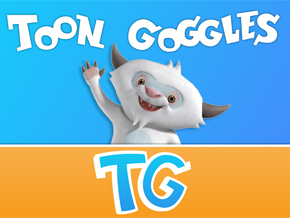 Quick Look: Toon Goggles offers a large collection of children's cartoons, categorized under Boys, Girls, Action, Comedy, Preschool, Educational, and Boom Goggles. Many cartoons are free, but a premium membership provides ad-free access to all videos.
You can watch the free cartoons without registering or linking your Roku to an account. A free account, however, will allow you (or your child) to select cartoons from the website to watch later, add cartoons to your "favorites" list from within the channel, and keep track of the cartoons you've watched so you can replay them later.
-- Information is current as of July 26, 2013
Developer's Channel Description: With the Toon Goggles - On-Demand Entertainment for Kids channel, anyone can enjoy kid-safe and parent-friendly cartoons anytime, anywhere.
DEVELOPER: Toon Goggles, Inc.
CHANNEL STORE CATEGORY: Kids & Family
FEES:
None for ad-supported videos.
$4.99 per month for ad-free videos.
RELATED LINKS:
Toon Goggles Website