Quick Look:Penny Dreadful Theme is a custom Roku theme that lets you change the appearance of your Roku's graphical background to display a scene from Showtime's series Penny Dreadful. A screenshot is shown below to give you a preview of what your Roku-connected TV will look like with this theme installed.
When adding this theme through your Roku device, you will be prompted to set the theme after you install it. To change the theme later, or if you've added it through the Roku website, go to [Settings] in your Roku's home screen, select [Themes], and select your desired theme.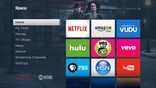 -- Information is current as of August 5, 2016
Developer's Channel Description: Dress up your Roku in this dark, mysterious background theme from Showtime's psychological thriller Penny Dreadful!
CHANNEL STORE CATEGORY: Themes
DEVELOPER: Roku
FEES:None
RELATED LINKS: None