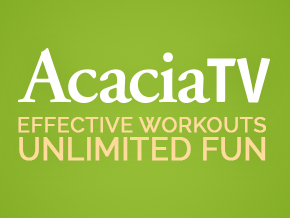 Quick Look: Acacia is self-described1 as "a mind, body, spirit brand promoting healthy, joyful living through a line of DVDs
."
The Acacia Fitness & Yoga Roku channel from AcaciaTV provides subscribers with instructional videos on yoga, Pilates, dance exercise, tai chi, interval training, strength training, and other fitness topics. A 10-day free trial is available (see link below), but users can browse the full video library before subscribing. Video categories include 5 Day Booty Lift Jump Start, 7 Day Ab Challenge, Balance, Beginner, Focus on Butt & Thighs, and many more.
A promotional video for Acacia can be viewed below.

-- Information is current as of April 3, 2018
Developer's Channel Description: AcaciaTV offers 100 plus hours of workout videos on demand. Choose from over 450 workouts you can do anytime, anywhere. Weight loss, sculpt, barre, yoga, Pilates and more. Whatever your fitness goal, there's a program that will work for you. Start your 10 day FREE TRIAL today!
CHANNEL STORE CATEGORY: Fitness
DEVELOPER: RLJ Entertainment
FEES:
Three subscription packages to choose from with a 10-day free trial:
Monthly: $6.99
90-Day Burn: $14.99
Annual: $49.99
Subscribe at www.acacia.tv/subscribe or through the Roku channel
RELATED LINKS:
AcaciaTV Website